Chiropractic care is designed to find and correct areas of spinal malfunction. Proper maintenance of the spine through chiropractic adjustments will ensure the well-being of the body.  At Hart Chiropractic Center in Geneva, IL we pride ourselves in providing each patient with exceptional care in a warm and friendly patient-centered environment. Our team of professionals specializes in:
Exceptional Care in a Warm, Patient-Centered Environment
Acupuncture involves the insertion of very thin needles through your skin at strategic points on your body. A key component of traditional Chinese medicine, acupuncture is most commonly used to treat pain, but can also be used for overall wellness, including anxiety and stress management.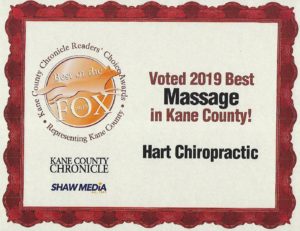 At Hart Chiropractic, our highly trained chiropractic assistants use a mix of techniques including swedish, deep tissue, myofascial release, trigger point, sports, and pregnancy to cater to what the doctor wants for each patient.
"Dr. Hart and his staff are outstanding. They genuinely care about getting you to 100% and keeping you that way."
"Not only do I have less pain, but I feel my overall health had greatly improved. I didn't even catch a cold all winter long!!"
"All I can say is… Wow! I was suffering with lower back pain on and off for years…After one treatment by Dr. Hart…I was walking without a cane. My pain was reduced by 75%. Now, three weeks later I am pain free!"
Contact Hart Chiropractic
Helping the Fox Valley live PAIN-FREE, naturally, since 2001.