Spinal Decompression with the DRX9000
"Can you help me?"
This is a question that I have been asked many times over the years and the answer is, it depends. It depends on what's causing the low back pain, there are lots of causes to low back pain and that's why one treatment works for someone and not for another person. As my dad would say "you need the right tool for the job".
Usually, when I see someone who has been suffering from chronic low back pain they've already tried taking a number of different medications muscle relaxants and painkillers, tried physical therapy or acupuncture or had Cortisone injections or even tried spinal surgery.
The reason why chronic low back pain can be so resistant to other therapies is because of the physical changes caused by the long-lasting biomechanical dysfunctions of the spine such as myofascial adhesions, degenerated disc disease, herniated and bulging discs and posterior facet hypertrophy.
The above changes for chronic low back pain are specific kinds of conditions that spinal decompression was designed to help. Spinal decompression with the DRX9000 simply put is just the most advanced form of spinal traction used today.
Hart Chiropractic Center uses the same state of the art technology as the Mayo Clinic and John Hopkins Medical University. The FDA approved the DRX 9000C in 2001. A recent study from the Journal of Medicine showed a dramatic 88% SUCCESS RATE for the treatment of chronic back pain using spinal decompression.
*NON-INVASIVE* *NON-SURGICAL*
Who is a good candidate for Spinal Decompression with the DRX9000 and DRX9000C?
Patients with herniated or bulging discs, degenerative disc disease, facet syndrome and sciatica are potential spinal decompression candidates. Any one who is considering spinal surgery should consider a spinal decompression consultation before doing the surgery.
What results can I expect?
Spinal Decompression can offer relief of pressure associated with lower back pain or neck pain. Pre and post-treatment MRI's have shown greater than a 50% reduction in size and extent of herniation after 4 weeks of treatment with the DRX9000 and DRX9000C. As with any treatment to get a better idea of how spinal decompression can help you hand your pain please schedule a consultation with Dr. Hart.
As with any medical treatment, there is no guarantee it will work for all patients.  Schedule a consultation today to see if the DRX9000 can help you.
How does Spinal Decompression work?
The DRX9000C works by enlarging disc space, which in turn, reduces herniation and strengthens outer ligaments.
Why should I choose Spinal Decompression?
Many of our patients are faced with nagging pain that will just not go away. Maybe its been years or just a few months, but either way they are faced with a pain that is felt on a daily basis. After trying multiple treatments including pain medication, physical therapy, or injections they feel like surgery is the only option left. This is where Spinal Decompression is so powerful. Spinal Decompression works by targeting and enlarging the disc space, reducing herniation, and strengthening the outer ligaments. Pain is reduced and often can be eliminated. Surgery is no longer needed!
As with any treatment, Spinal Decompression may not work on every patient but the statistics show that we have been able to help many of our patients live pain-free and avoid surgery by correcting the specific disc that gave them so much pain.
We are proud to be able to give patients the option of trying Spinal Decompression using the DRX9000 for their pain before choosing to head off to surgery.
Can Spinal Decompression Help My Chronic Low Back Pain?
It depends and starts with a review of your health history, an evaluation and a conversation with the doctor to see whether or not spinal decompression is the right treatment for your chronic low back pain. Spinal decompression has helped a lot of people with chronic low back pain but it is not for everyone. Every case is unique.
"Not too long ago I was walking up and down the aisles of Trader Joe's searching for the items on my wife's grocery list, two of my little ones with me, when I was stopped by a former spinal decompression patient. It had been almost a year since I had seen him back at the office. I remember his case was a tough one. He had a pretty bad bulging disc in his lower lumbar spine. He traveled for work which makes consistent treatment difficult and his insurance only allowed so many treatments. Going into treatment I felt as if he had already given up any hope of recovery and was mentally preparing for spinal surgery. This was a lot of pressure on me, the doc, to get this fixed and fixed quick! "Dr. Hart!" I hear this all the time out and about. Living in a small community I run into patients all the time. I turned to see him holding a bag of groceries with his hand out ready to shake mine. "you saved me from surgery!"  Spinal decompression proved to be a great fit for this patient." –Dr. Hart
What to ask when searching for spinal decompression:
What device do you use?
What are the success rates?
How long have you been using spinal decompression in your practice?
Have you treated patients with my symptoms before?
Am I a good candidate for decompression?
Do you have testimonials I can read?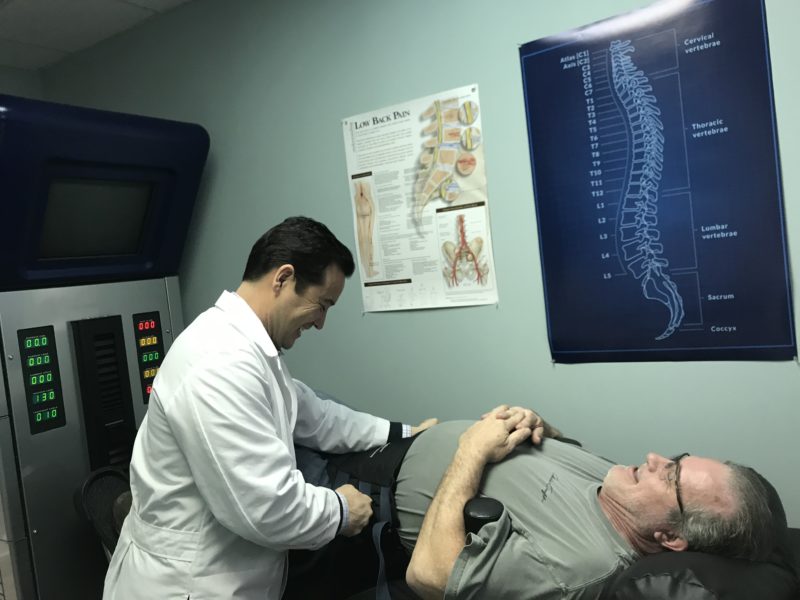 "What a great experience! Thanks Dr. Hart, and to the staff of Hart Chiropractic. Looking forward to my next visit!"
"Dr. Hart is totally professional, empathetic and creative regarding treatments for returning patients to high levels of wellness and then retaining that wellness."
"I've seen several chiropractors over 10 years for chronic back pain with limited success. I started seeing Dr Hart about 2 years ago after moving to the area and his approach was unlike any Dr. I had ever had. "